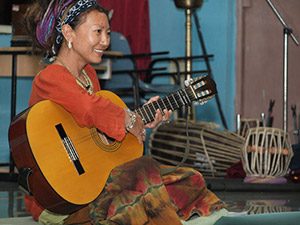 Yoga Session and Massage Therapy with Kelzly Inka Lee
At AOM  Yoga Studio.
Kelzly would like to welcome students of all levels and interests to join with her classic Hatha Yoga class. This is a class with gentle approach incorporates some gentle stretching, Yoga Asanas, Pranayama (breath work), and meditation. Both calming and rejuvenating, her class is easy to follow. With gentle postures help bring balance, develop proper alignment while focusing on breathing awareness encourage the flow of subtle energy within cultivating the intention and inner balance of body, mind and spirit. You will enjoy an overall feeling of well-being, gain greater strength, flexibility and balance, a great way to reduce stress and tension in the daily busy life.
Her class aims to promote balance of the body, mind and spirit through effective teaching style and techniques, thus bring out the positive energy, the inner awareness and the true potentials of the individuals.
A certified Yoga Instructor trained in India, Kelzly offers group sessions and individualized one-on-one sessions specific to each client's unique body and individual needs.
Kelzly is also a certified Massage Therapist, specialize in Aroma, Healing and Thai Massage. With her in-depth knowledge of the therapeutic treatment, she provides a safe and effective massage techniques, to ensure the appropriate treatment based on client's individual needs.
For rates and dates availability on Yoga / Massage Therapy with Kelzly, please contact Aom Yoga Studio